The family decided to head up north this weekend to spend some time in the great outdoors! After being shacked up for the last 9 weeks, we all needed a different place – if just temporarily – to lay our heads. With WI 'revoking' the stay-at-home order, we headed up to the cabin last Friday. With that, I packed up my fueling packages, mostly bars and easy to grab-n-go type options and we headed North!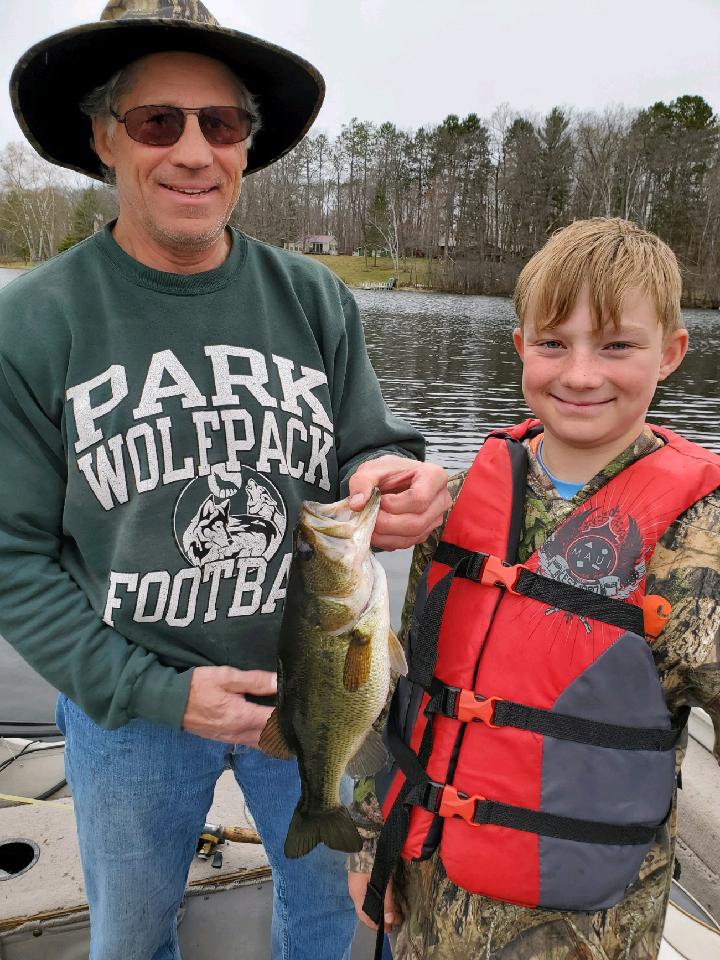 It was a great weekend, just me, the wife and kids and my dad. My dad took the boys up a day early, so when we got up Friday night, they had already snagged a nice mess of panfish and my dad was cleaning them while the boys were playing some "Go Fish" and "Old Maid" in the cabin. We got out on the boat a bunch on Saturday, tried some fishing late morning, which turned into a boat ride. Then the wife and boys went out kayaking in the afternoon. My dad and I jumped in the boat and started fishing along the lake, after the kayakers were done talking to some neighbors across the lake and their dogs, they came back to see how the fishing was… we were catching a smorgasbord of Largemouth Bass and panfish, so the boys wanted to join in. Jonathan jumped in the boat first, and Katie brought his kayak back to the cabin. Then Joseph joined in and Katie was the photographer after she returned. When all was said and done, we had a basket of panfish and a lot of good stories to share about all the Bass that were caught and released. It was a great day and we all slept good that night!
This morning (Sunday) it rained, so we packed up our stuff and headed home – the boys slept most of the trip (and when they weren't sleeping, they were snacking). The weekend was fun, but you may be wondering how I did with the program… It was tough at times, especially when we were making pancakes and eggs for breakfast or grilling the brats over the fire. With the diligent assistance from my wife, I kept from eating more than what was called for – there's no way I could be doing this without her assistance. It was also tough to stay on the 2-3 hours between fuelings too. I had my alarm set, but when we were out fishing (and actively catching fish), I wasn't about to stop to get a snack bar and I didn't always have them with me because I didn't know how long we were going to be out – with the boys, it can be a short outing sometimes. I actually didn't get all 5 fuelings in on Friday or Saturday and today might be tough too since I've only had 3 so far, we just ate not too long ago and it might just be another early night tonight! That being said, I could've easily devoured a mess of the fish we had Friday night or eaten 4 or more brats last night, but I didn't – again primarily because of the looks I got from my wife. I could've also hammered some BBQ pulled pork sammiches tonight, but she made me a BBQ pork salad, more on that in a bit. I did keep track of my eating and rough times for each. My weekend breakdown:
Friday (5/15):
0740: Chocolate Chip Pancake
1015: Dark Chocolate Cherry Shake
1400: Honey Mustard & Onion Snack Sticks
1840: Caramel Delight Bar – this truly is a delight. I can't believe I missed this earlier in the plethora of boxes of bars, but easily the best bar of the group
2100(ish): Meal – 5 pan fried panfish fillets, 1 hard-boiled egg and 1.5c raw zucchini
H2O: ~12c and 3c of Juicy Orange hydrate from Isagenix
Saturday (5/16):
0800: Chocolate Fudge Crisp Bar- this might also be a new one, possibly the last package I have yet to sample. It was pretty good, for a chocolate fudge bar of 110 calories
1100: Chocolate Mint Bar
1420: Berry Crunchy Os
1830: Cranberry Honey Nut Granola Bar
2000(ish): Meal – 1.5 brats & a side salad of zucchini, spinach, green pepper, tomato (all within the 3 'greens' amounts) – no dressing
H2O: ~8c maybe 11c? I didn't really keep track that well and I lost my water bottle for part of the day
Sunday (5/17):
0835: Caramel Delight Crisp
1200: Berry Crunchy Os
1350: Creamy Chocolate Shake
1700: Meal – BBQ Pork Salad – a simple salad of spinach, cucumber, green pepper, carrots topped with 6oz of pulled pork – no dressing
H2O: 8c so far and I'm about to go for my scheduled (hopefully, quick) 1mi run for the day, so I'll easily get another 3-4c in – along with another fueling (update forthcoming)
update: 2030: Decadent Chocolate Brownie (celebrating my first sub-8min mile in many, many moons @ 7:43) +3c water
As I wrap up the first week, I'm pretty sure I've sampled everything in the box – it's all edible and I've made note of my first impressions for each. There are some of the fuelings that I'm not overly excited about (having 6 more packages left) but those are pretty rare. For the most part, the food – and the reason I'm giving this a go is that it is FOOD, not just shakes and pellets – has been pretty good. I'll weigh-in and take measurements tomorrow morning to see how I'm doing along those lines. I'm planning on posing daily with at least what I ate and a photo of my 'meal' for the day.
My biggest supporter, my wife, has been a blessing to help with meals – eating has always been my thing, I'm really good at it and I when I cook food, I'm pretty good at that too, so I end up eating a lot of it. I've let her make a lot of the meals this past week with her measuring out the proteins. I did sneak in a piece of bacon (or two) this morning that was leftover when the kids finished their breakfast… but other than that I've been following the plan and apparently, I'm surviving long enough to at least type this out! 😀