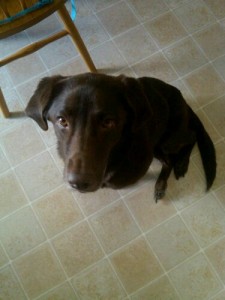 it is with a heavy heart and tears in my eyes that i share that Katie and I have made the very difficult decision to put Cocoa down. Last January, she had been given a month – we have been blessed to have 11 since we were given that news. It has been a very up and down roller coaster of a ride with mostly highs throughout, but she has been pretty bad this last week. The kidney issues that she's always had and been able to handle without showing any signs of problem, has really taken its hold on our four-legged family member. We can't get her to eat even her favorite foods of waffles, doughnuts or even pizza (or if she will touch it she is unable to keep it down). She's lost a lot of weight, can barely get up the stairs and can't get in the bed (I've been picking her up so she is able to sleep next to me). We feel that this is the slump she won't come out of and we want Joseph to remember the good times he has had with her and not have a lasting memory of her end. It has been very difficult watching Cocoa suffer as opposed to being her energetic, happy self.
I am very fortunate and thankful to have been able to take her out pheasant hunting for the Wisconsin opener this year – for the one final hunt. I will never forget the wonderful times we spent together in the field, her dirty looks when I missed (it has been known to happen) and the absolute joy you could see on her face as she bounded in the tall grass after upland game. She kept me company during those long road trips and would nudge my arm to get me to pet her as she sat in the navigation chair (passenger seat) of Sunshine and of course, I would comply.
Thank you to all who have kept our precious Cocoa and the family in your prayers – the myriad of notes from we still get today from KTIS's prayer request even though Katie put that out there last January.
And to Cocoa, this has been a very difficult decision for us to make. We love you tons and I promise we'll get some birds when we meet again.
Edit: Cocoa, being the awesome dog that she was, died silently in the back seat on the way to the vet. She was holding on for as long as possible, yet she still went on her own while Katie and I held her with tears in our eyes. So thank you Cocoa, for not making us make that decision. We love and miss you!